CNC cut signs, powder coating, TIG welding
Lots of projects on the go, everything from CNC cut signs, powder coating, TIG welding stainless steel/aluminum parts to MIG welding a 280# steel pipe rack.
Most projects we supply the material for the job at hand, however we also accept customer supplied material too.  Here we have some 2″ and 2.5″ SCH40 pipe dropped off and ready for processing.  We had a design submitted from the customer and it is now time to get to work!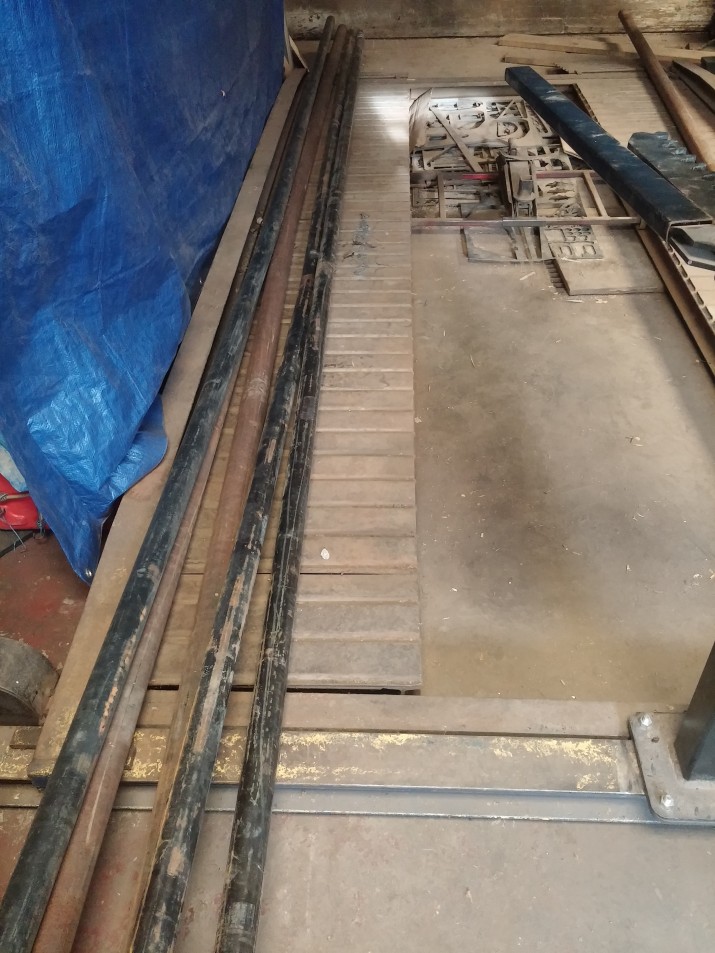 We took the customer design, modeled it in Solidworks to get an idea of weight and to help with creating coping templates for the "v" section of tubing.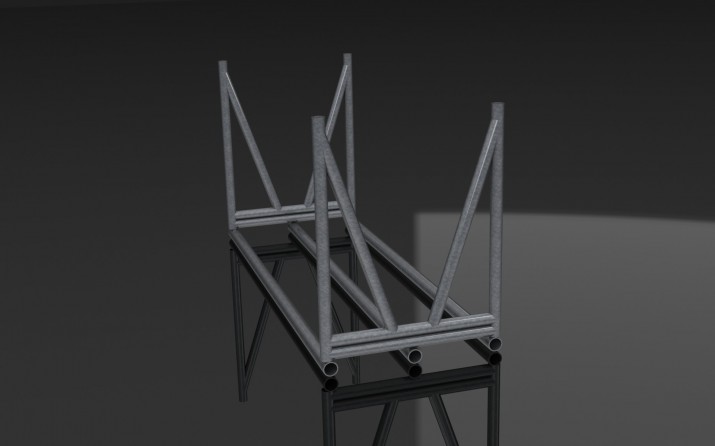 Most tubing can be coped with a hole saw in a tube/pipe notcher.  However with SCH40 material of this size coping it on the bandsaw is much quicker and more cost effective.  Notice the c-clamp at the bottom left of the photo.  This ensures a consistent cut location by allowing the tube to butt up against it prior to cutting.  Repeatability just makes things so much easier and quicker.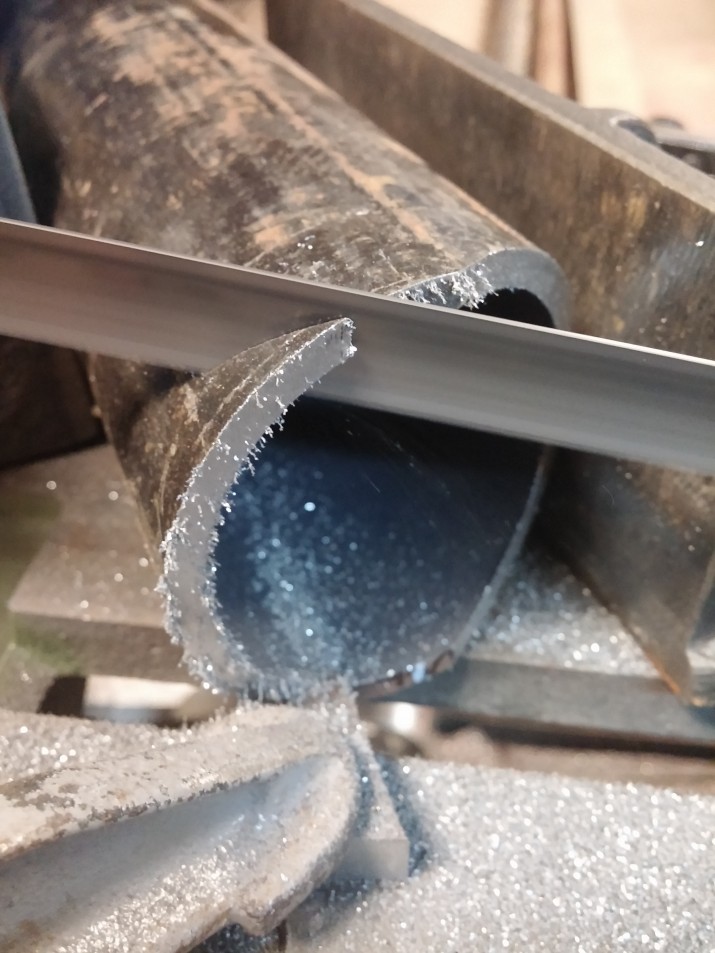 Here's all the tubing processed (except for the "v" sections), the ends are cleaned down to raw material to ensure a good quality area to weld to.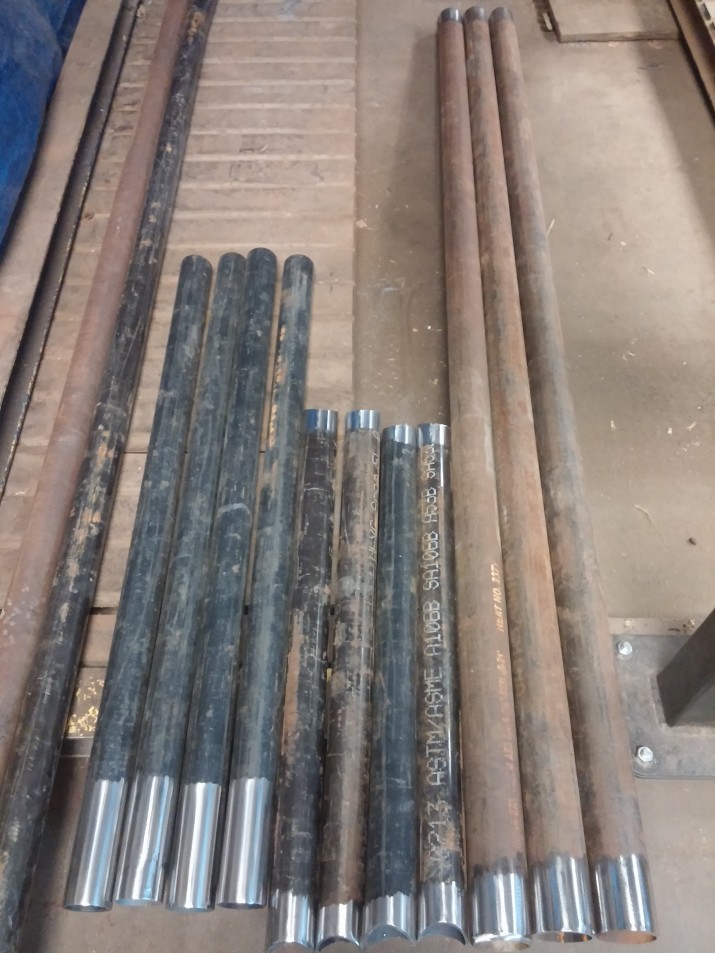 And here's the final product ready to head back to the client's shop.  It will be used to drop in various pipe via forklift and then allow it to be easily banded and removed as a whole with a forklift.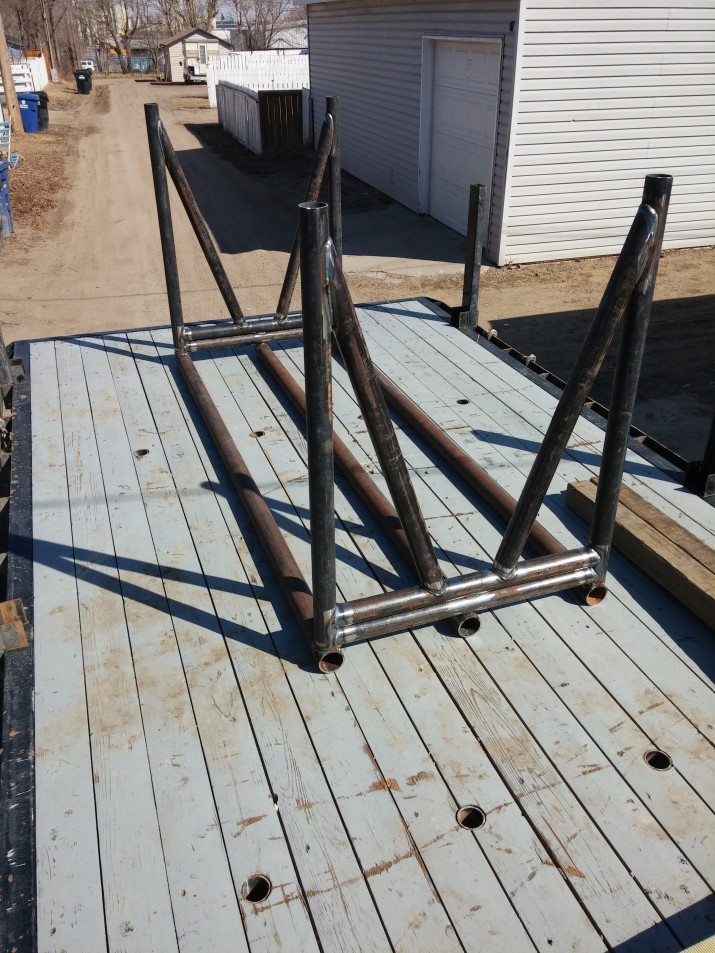 Here we have a modern sign made for a local home builder cut out of 1/4″ steel.  This is after it is cut, acid bathed and media blasted.  It has some weight to it and is now ready for powder coating.  This is the first time we've powder coated a part that has been previously engraved.  Notice the engraving near the bottom of the part?
Here it is after having bonded silver vein powder applied to it.  And the engraving disappeared…
Powder looks really good and has a slight texture to it, which is why it filled in the engraving.
So here's the solution.  Engraving and cutting a 16ga 304SS piece to be secured with the two bottom mounting holes.  Looks much better!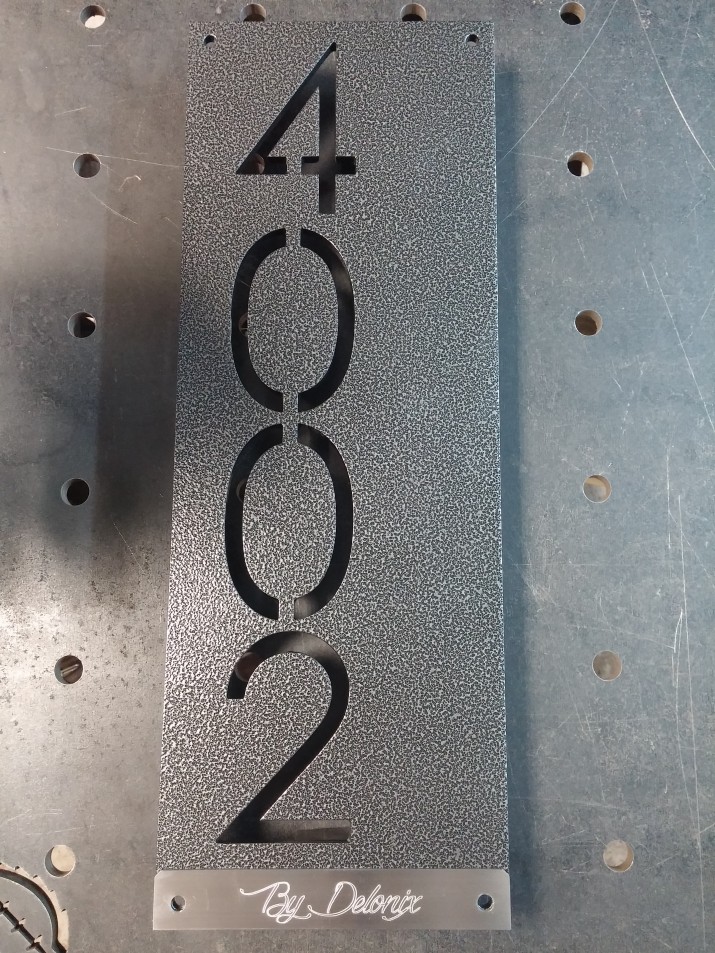 Here we've got a few 304SS pieces that need welding, a few alignment marks  from the customer and some tweaks are needed prior to welding.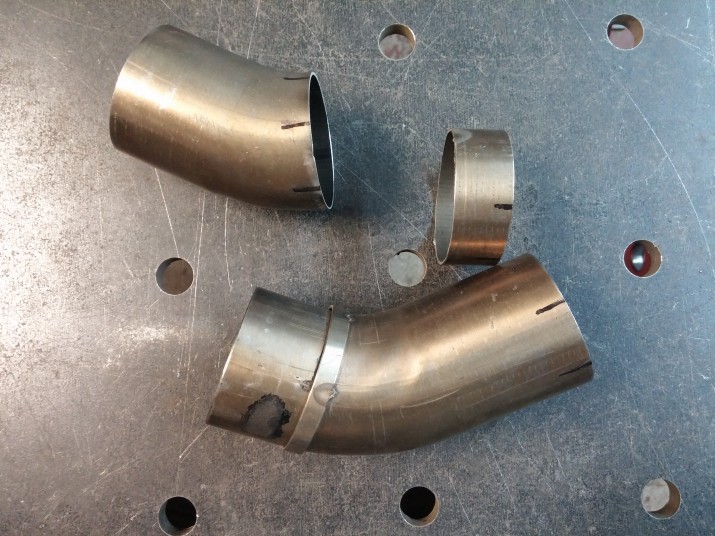 No problem!  Everything stainless steel is backpurged to ensure that there is 100% penetration and to ensure that the inside of the weld is just as protected, strong and as beautiful as the outside weld.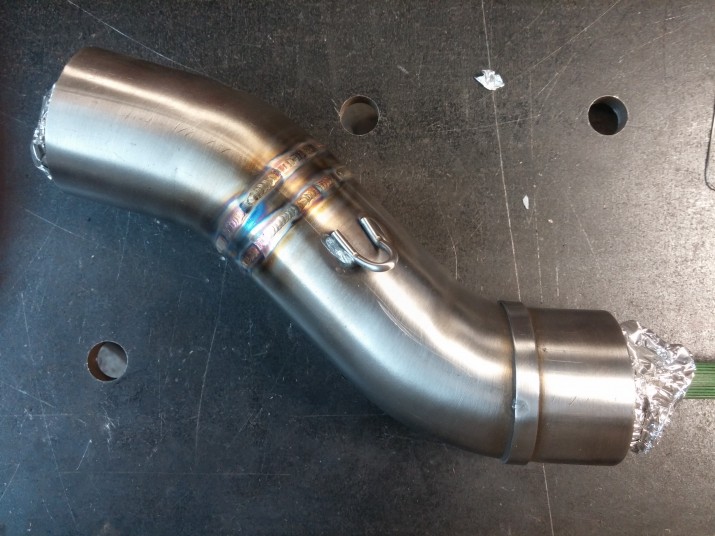 Miscellaneous parts needing some last minute work prior to a car show coming up.  It's not every day we can do same evening turnarounds…but in some cases we can make it happen.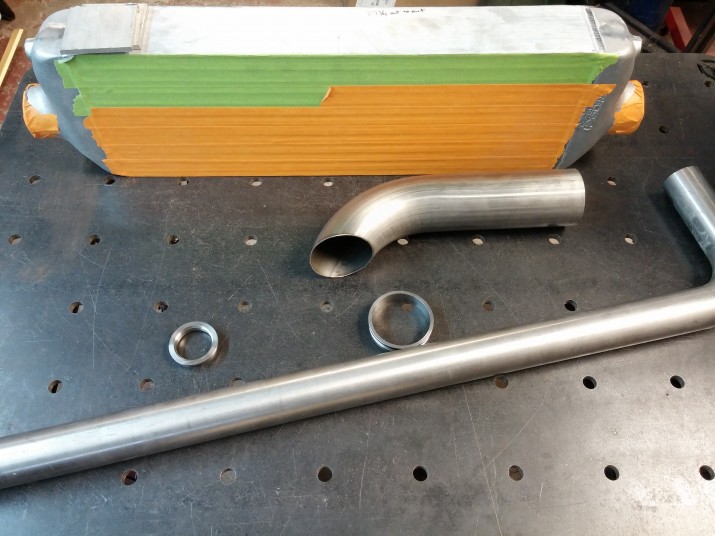 All done welding.  100% backpurged as per usual.  The customer only wanted the first few inches of the tubing brushed as the rest will be covered up with ceramic exhaust wrapping insulator.
The intercooler had some brackets welded on as well as another SS dump pipe having a flange welded on.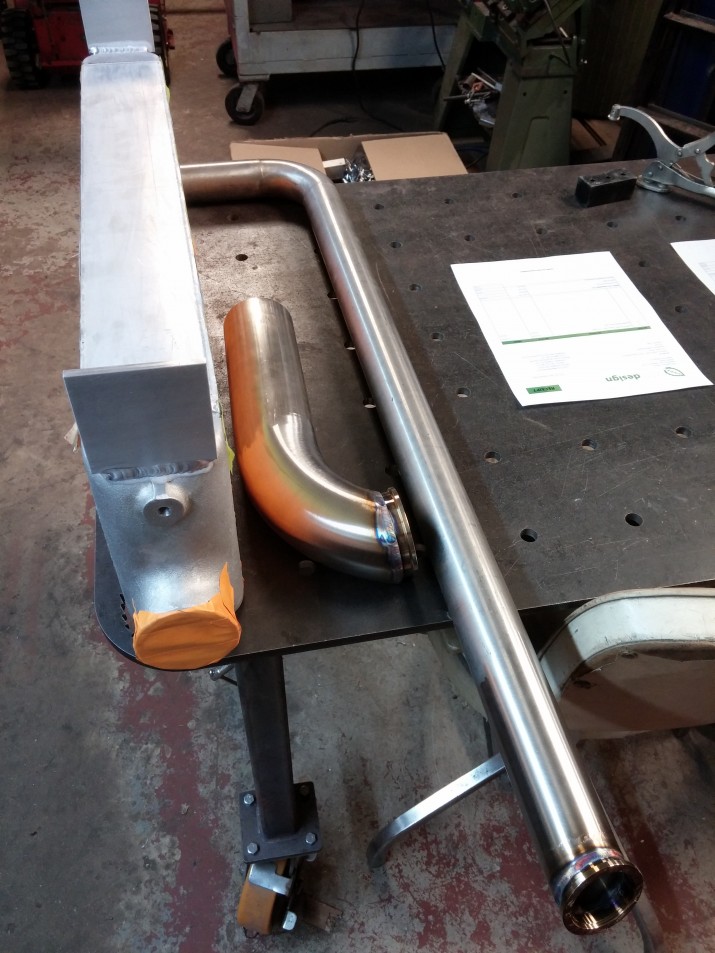 Just some of the parts to pick up today before the Easter holiday!