Welding table top, exhaust and powder coating
We're always working on a variety of projects so nothing is ever dull in the shop!  Here are some of the things that have been cut and built recently.
Here a customer designed a slotted welding table top which will allow for the use of clamps in various positions in and around the table.  It is 3/8″ thick hot rolled 44w steel.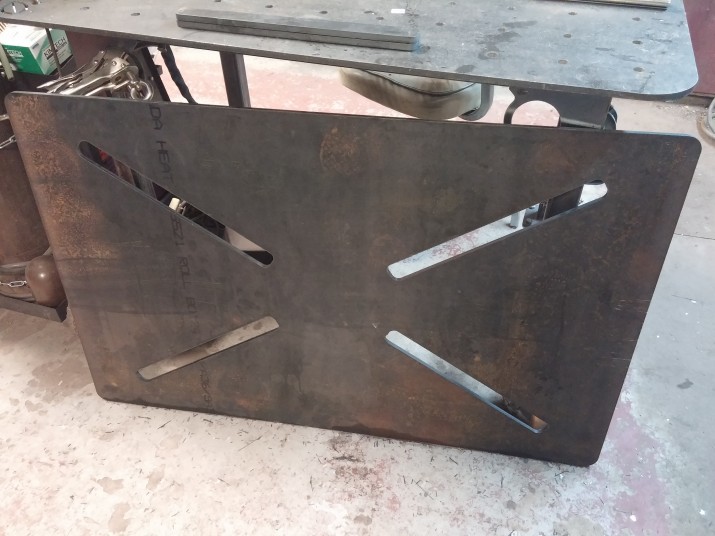 Nothing but the best!  Our CNC table allows for high quality cutting with minimal dross.  It allows for very quick clean up time which eliminates extra cost.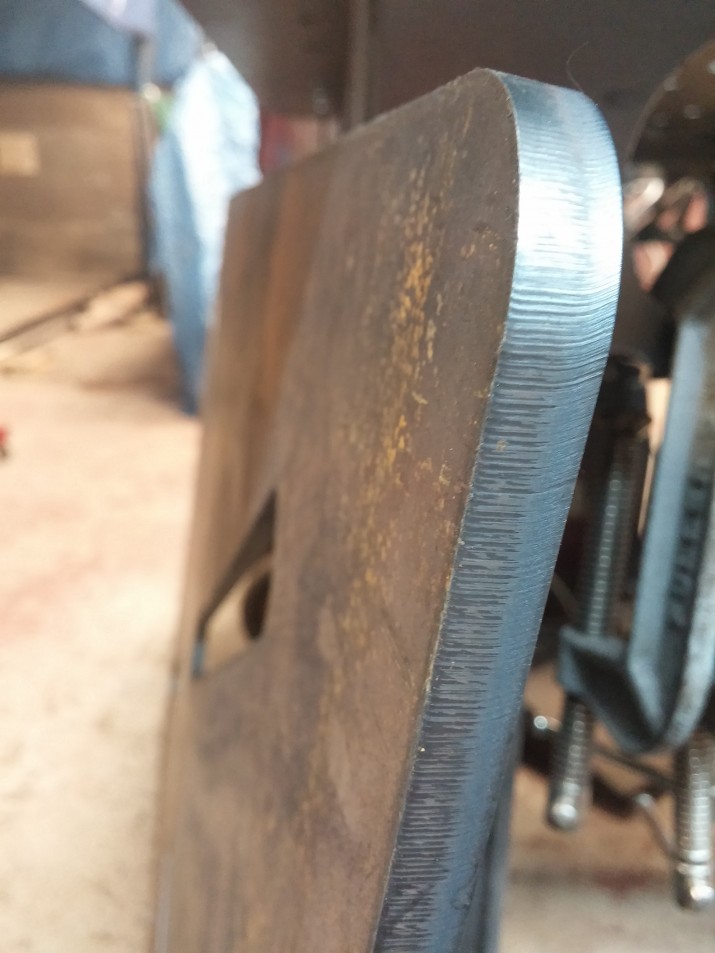 Here we have a Subaru external wastegate (EWG) dump that will be merging back into the downpipe.  You can just slightly see the external wastegate dump to the right of the downpipe and just below the cross member.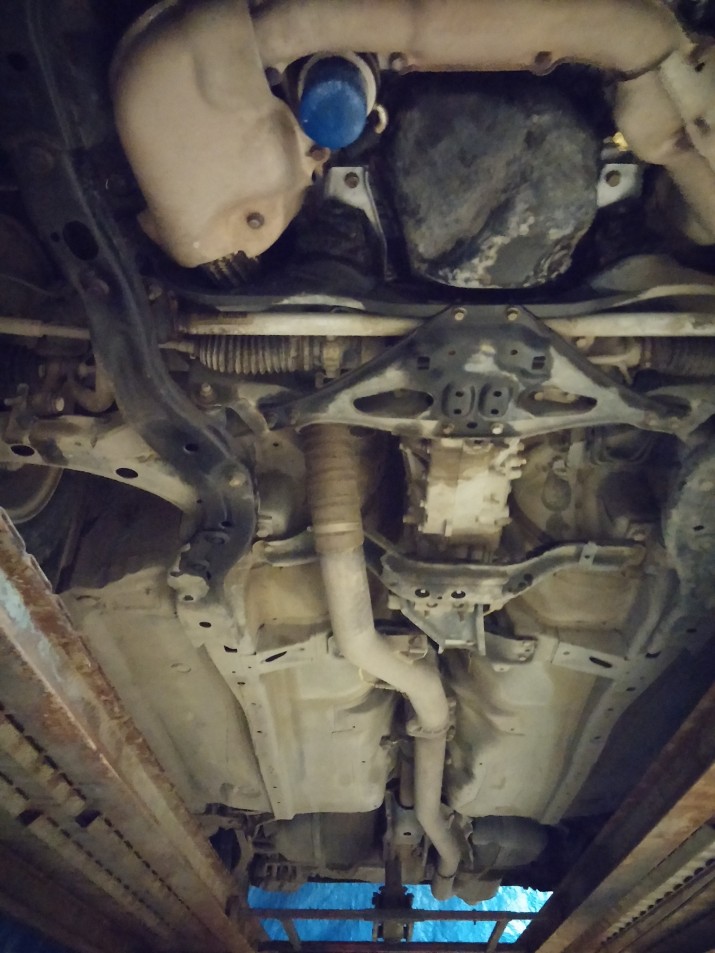 After finishing the wastegate tubing and coping it to match up with the downpipe it is tacked in place to ensure the whole system can be removed from the car (it is very close to the front CV axle).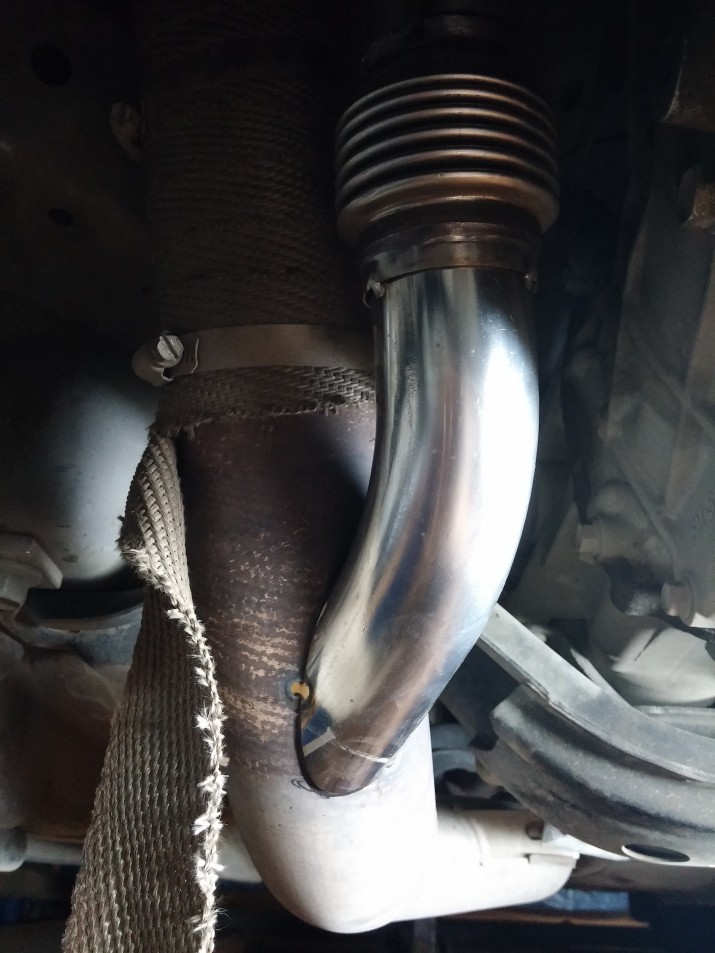 Now with it being removed the dump outlet is traced onto the downpipe, the tacks are broken and is ready for plasma cutting, brushing, final tacking on the car and then finish welding on the bench.
We also had a F20C (from a Honda S2000) valve cover getting ready for powdercoating.  It is washed, blasted and then pre-baked.  The pre-baking allows any oil in the grains of the aluminum casting to push out to the surface and be cleaned via another blasting process.  Not doing this step could result in oil coming out during the powder coating curing process, and if that happens powder coating defects will occur.  So cleanliness is very important.
It's hard to see in this photo but there is actually a 4″x6″ rectangular tubing that fits just inside the valve cover to elevate it off the rack.  This doesn't matter much for the pre-baking process, however during the powder coating curing process it is.  Nobody wants indentations along the bottom of their valve cover from a rack!
All threaded holes, nipples and open fittings are plugged with silicone plugs and masked with high heat tape.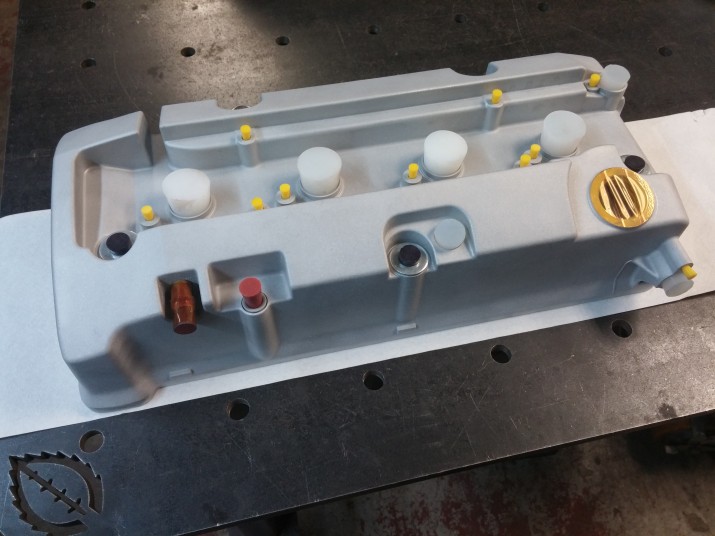 The customer chosen wrinkle red powder is applied.  The powder coating equipment we use varies the charge voltage to the powder particles, so it avoids the faraday cage effect.  Essentially sharp corners or deep recesses will actually repel powder, so by changing the charge voltage differently charged particles will "stick" in different areas.  Thus allowing for a more consistent coverage and higher quality finish in the end.  Now it's ready to go in the oven.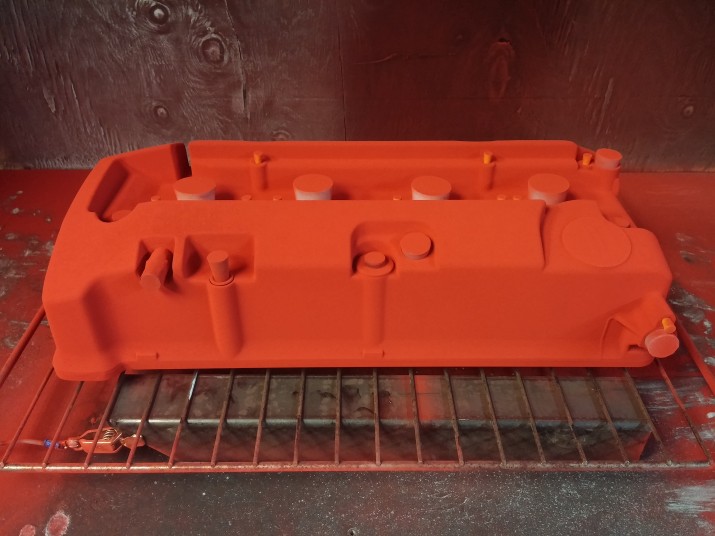 And here's the final part after all the plugs and masking is removed.  Nothing but the best for our clients!
Thanks for looking!  If you're interested more in our powder coating services, TIG welding or CNC cutting please click on the links.  Or subscribe to the blog at the bottom right hand corner of your browser, click on the follow button.  Stay tuned for another future project…