Powder coating and building mounts
We've been busy working on a variety of projects, some powder coating and building mounts for a 50″ light bar on a Dodge truck.  Nothing too sophisticated with this project, just took some time and some careful measurements to ensure that everything lined up and time wasn't wasted.  We only had a few hours to knock this project out so there wasn't really time for progress photos.
Here you can see the cardboard template on the left.  The template is strictly to dictate the CNC cutting shape and bend locations.  The template took 60-70% of the time to produce as the metal versions are exact replicas of it, so it had to be accurate.  Once the cardboard template is acceptable it is redrawn in CAD and the new pieces are cut out of steel, the bend locations are slit 95% of the way.  This makes manipulation of the steel easier in order to get the correct bend angles.  Once the bend angles are determined from the temporary steel brackets, the final units are cut and formed to match the temporary steel brackets without the slit bend lines for maximum strength.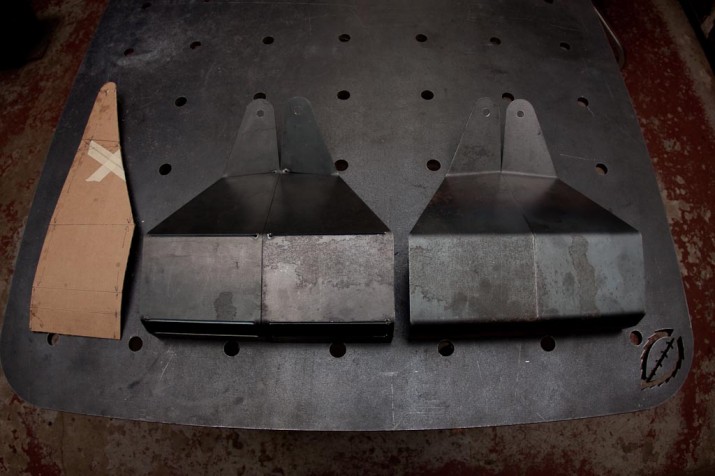 The customer had the parts painted and installed.  Here is the final product installed (thanks to the customer supplied photos).
Another project we're preparing for requires a fair bit of powdercoating, so before we shoot any production parts we did a bit of testing.  Here is the first part we've powdered.  It's shot with a wrinkle red, super common for use on valve covers etc…  We also have wrinkle black in stock as well.  We just shot a simple part to begin with (it's one of our custom box re-sizing tools, a variation of this one can be seen prior to powder on our Mannequin blog post).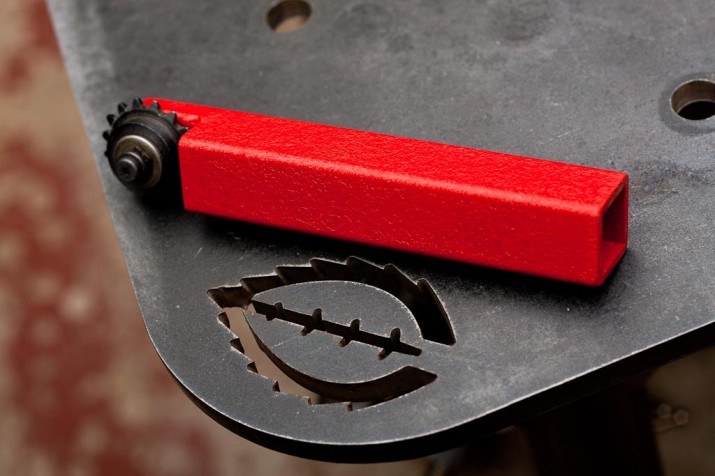 We're preparing powder coating for this project working it's way down the line.  More to come…