Ford Ranger Exhaust System
We had the pleasure of building a Ford Ranger exhaust system a little while ago.  The system was all constructed from 304 stainless steel, TIG welded, backpurged and using existing holes on the frame for hanger mounts.  This truck has been stripped down to the bare frame and built up with care, so this truck is as clean if not cleaner than some new vehicles we've worked on.  The passenger side exhaust was very straightforward, but the driver's side had an interesting header that dumped to the ground ahead of the transmission.  So with the driver's side we had to use some mandrel bends to redirect the exhaust flow around the transmission and over the sub-frame.
Here's the Ford Ranger up on the hoist ready for the exhaust system to be built.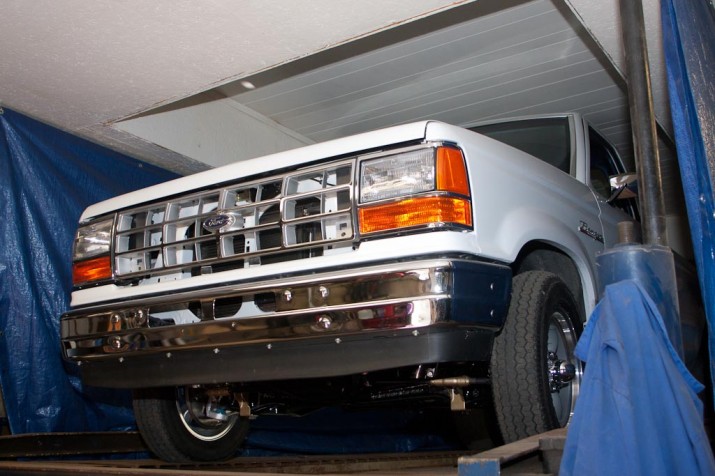 Here's the system tacked up and ready for polishing.
Once all the tubes are tacked, then the tube polishing begins.  This takes the raw 304 SS tubing and brings it to a #4 Architectural Finish, see more info here on our polishing page.  Tube polishing can be done before or after welding, however most customers like the look/coloring of welds on stainless steel so we typically polish prior to welding.  After polishing the tubing must be handled very carefully, wrapped, cannot sit on anything steel (due to embedding foreign material that could rust) or anything hard that could scratch the surface.  Here you can see the polished on the left and raw material on the right.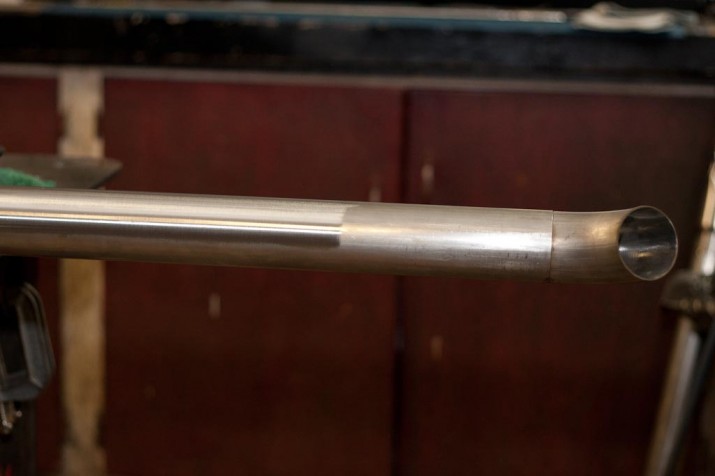 And here is the polishing completed.
Now both tubes are tacked and polished it is time to tape all the joints and get it ready for backpurging and TIG welding.  Backpurging is when the inside of the tube is filled with an inert gas, in this case Argon, this protects the backside of the weld from contamination commonly known as "sugaring".  Sugaring is an oxidized area of Chromium that combines with oxygen to form a hard thick porous oxide layer.  This oxide layer depletes the Chromium content in the stainless steel near the weld and if enough is depleted the corrosion protection can be compromised.  The oxide layer is porous so it leaves the inside of the weld open to corrosion and can disrupt exhaust flow.  This is why backpurging is important, especially on a high quality exhaust system.  Here is some prep shots prior to welding.
Here's the exhaust system all welded up (sans hangers).
Now to install it on the truck.  Here's the tight hoop between the transmission and sub-frame.

If you have any questions or further interest please take a look at our Services Page or send us a message through our Contact Page.  Thanks for looking.