CNC Cut Skateboard
It's always fun doing artsy projects that force us to be creative.  This is a CNC cut skateboard coat rack that was modeled, CNC cut, fabricated and painted in one day.  It's constructed from 14ga 44W steel with TIG welded hangers on the back.  This pushes the deck 1/2″ away from the wall and gives it a 3D look.  The long horizontal slots were intentional because the TIG welding process will cause warpage these slots allow for this warpage to be dramatic.  This pushes out the text further than the area above and below the top and bottom slots, this giving a greater 3D look.  Also after the part was cut we forgot to form the tails on the 3D model, so we formed them after the part was cut.  Here's the rendering before we began cutting any steel.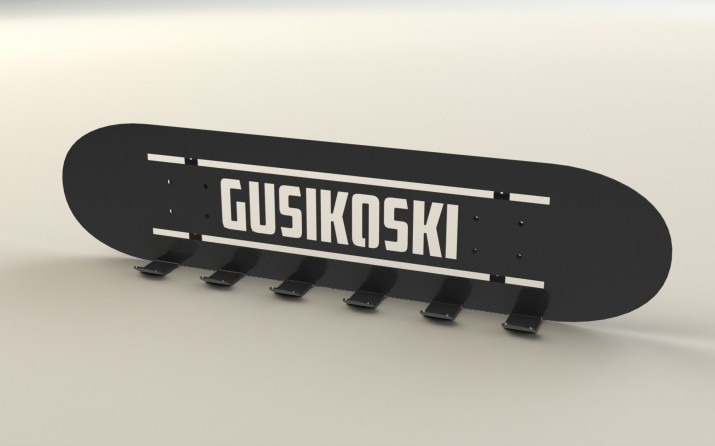 We didn't get any photos during the cutting and forming process since this was something that had to be done quickly.  However here it is prior to paint.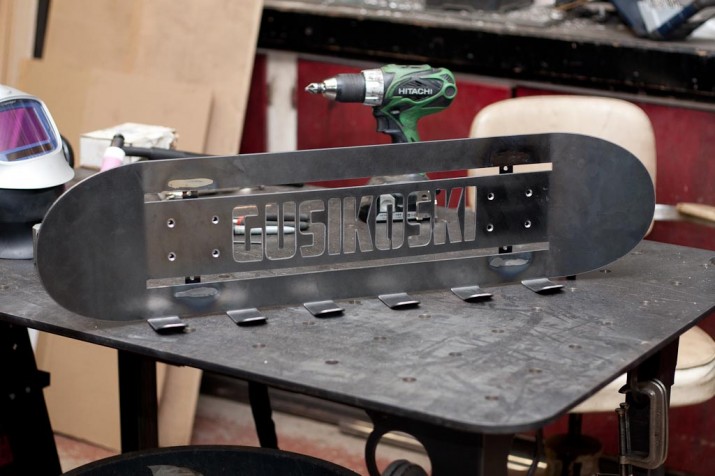 Since the mounting bracket is viewable from the front, they were necked down along the slots so when viewed from the other side they look like the axles from the trucks.  The bolt pattern through the deck and mounting bracket are the same as an actual skateboard so in theory you could bolt up a set of trucks to it.
We used a rocker guard paint to finish it off as it's textured to look like grip tape as well as being really really durable.
Follow the links to our CNC cutting and welding capability.  Thanks for looking!