In the shop we're setting up for a powder coating station, working on a few design projects and doing some fabrication work.  Here was a super simple job, 1/4″ 6061-T6 plate CNC cut and TIG welded to a 6061-T6 square tube.  It'll be used as a hitch cover for a very avid Astro Boy fan.  We prep every welded joint as if it's safety related, this ensures that we produce high quality (strength) and that also look good.  In this case the weld is purely cosmetic and most likely won't be seen once installed.  In any case our clients expect the best and we provide the best no matter how simple the job may be.
The hitch cover will be media blasted and then sent out to be powdercoated a vibrant York Red by Sean at Jamison Automotive Services.  This will buy us some time to set up our power coating booth and allow us to learn the controls and have a bit of practice.  We only learn new processes with projects around the shop, we don't gamble or experiment with customer's products.  We have a design project that will be done in the next few weeks that will be built 100% in house, CNC cut from 1/4″ steel plate, TIG welded, powdercoated, assembled and ultimately delivered to the customer.  Bringing the powder coating process in house is just one more step to becoming a one stop shop, from working on a design concept all the way to producing a high quality final product.
We are starting with a variety of vein powder coats, super durable outdoor rated powder as well as super common wrinkle red and wrinkle black.  We have the ability to bring in any powder needed based off our in house color swatches or from our supplier's website.  Keep posted for the many powder coated parts leaving our shop in the near future.
Sometimes we're too busy to take photos while building custom designed products for our clients, in this case we've got photos from the client once they've put it in use.  In this case it's an aluminum chimney support we built with some 2″x2″ 6061-T6 aluminum tubing with some 1/4″ 6061-T6 aluminum plates TIG welded on.  We also produced some triangular brackets that were all CNC cut on our plasma table out of 14ga steel and formed in house.  Here are some photos of the installed product.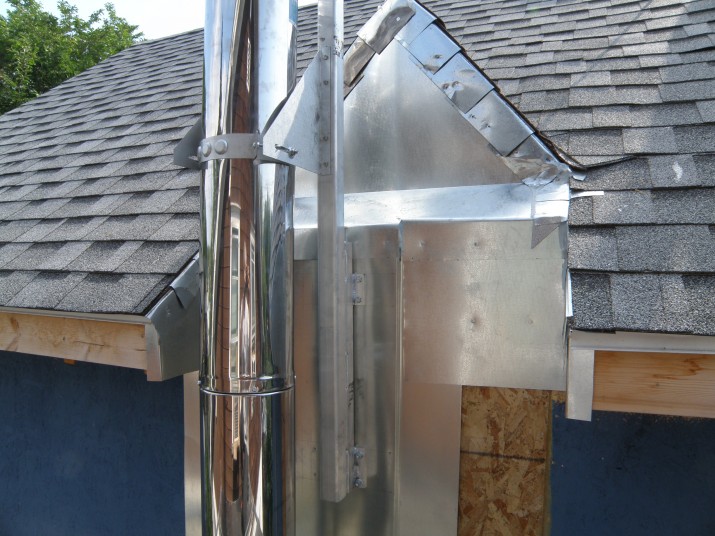 All the tubing was cut to length on the bandsaw, clamped to the welding table and TIG welded.
While working in the shop we are constantly listening to our clients and always making moves to fill the niches that they look for.  There are processes and fabrication techniques that we do that we don't readily advertise, but it's usually because we haven't mastered it yet or don't have all the necessary tooling in place to be as efficient/cost effective as we should be.   So after a few successful projects we will then officially offer the service on the site.  In this case we are now ready to offer tube/pipe bending and in a few weeks powder coating services.
The tube/pipe bending has a slight learning curve so we wanted to ensure that what we design in CAD could be accurately produced, this took a bit of time and the quality showed on the roof rack project.  On that particular project the tolerances from bend-to-bend is within ±0.063″ and from bend-to-edge is within ±0.015″.  These types of tolerances are tighter than most so this is the reason why
One service we have not had the chance to work with is powder coating.  However due to the demand for this from our industrial and automotive clients we have decided to bring this service in house.  This will reduces the ultimate cost to the customer as well as lead time.  In the coming weeks we plan on setting up and carrying a variety of durable UV stable high salt spray resistance powder, different color wrinkle powder and vein powder along with a variety of RAL colors.
Keep tabs on the Mint Design blog for more photos of future projects that will be powdercoated in house or tubing structures being formed.  In the meantime take a look at our two new service pages; Powder Coating and Tube and Pipe Bending.
These are not projects we want to work on, it's something we have to work on.  Here's a stainless steel urn produced in the shop for my father-in-law, Larry Mortenson.  This urn was designed in SolidWorks, converted to a flat pattern and all pieces exported as .dxf's for the CNC table.  It is made out of 14ga 304 stainless steel, the perimeter is one piece that is slit with the plasma cutter along the bend lines, which is subsequently TIG welded closed.  The top is a separate piece that is TIG welded on, the bottom is a separate piece that is attached with three #4-40 screws.  Prior to any cutting the part was engraved on the CNC table.  Warpage was a big concern so the use of a damp cloth was used to help dissipate heat without imparting any heavy scratches on the urn prior to final brushing.  All the welds were ground down and the entire part is finished with a fine scotch brite pad and cleaned with a stainless steel cleaner.
Here is the urn ready for the funeral and to protect Larry's ashes at his final resting spot.  One personal touch is that all Larry's immediate family's signatures are engraved on one of the three sides.  The signatures were scanned, converted to vector format and engraved.
Rest in peace Larry.