Well we've been busy in the shop with a variety of projects.  Here we're entering into a small CNC mannequin production run for a luxury fashion designer, Nosakhare Osadolor, based out of London, UK.  The website for Nosakhari is http://www.nosakhari.com.
We adopt a lean manufacturing process where we try to carry as minimal inventory as possible, so once the job was put in place the material was put on order and picked up on a rainy day.  It was all unloaded into the shop, the sheets were then cut in half to have it loaded onto our CNC table) and the CNC cutting could begin.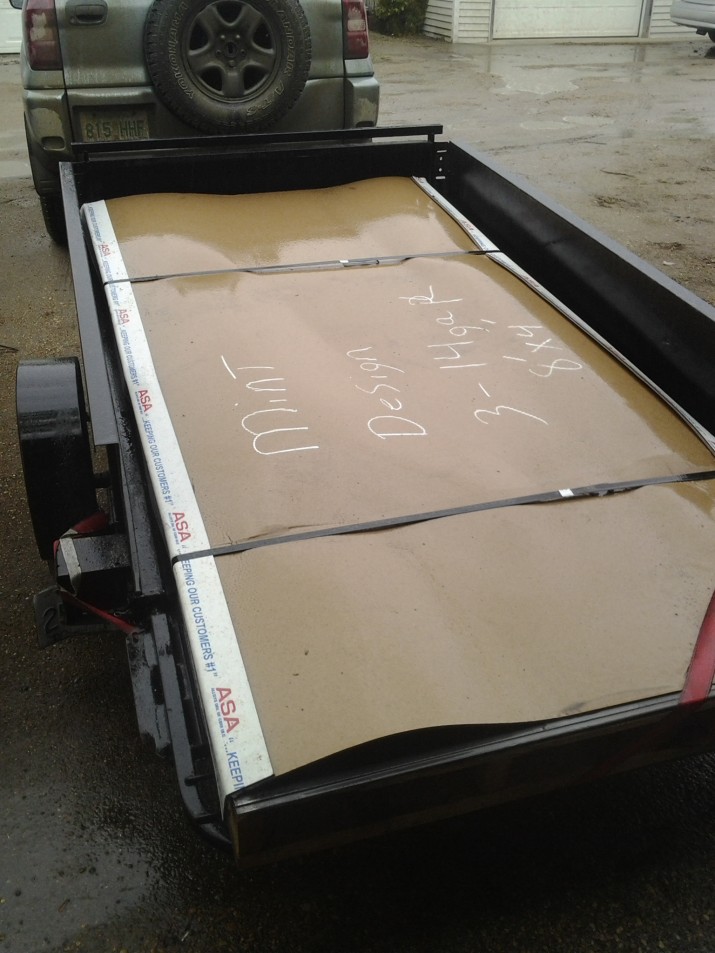 This is one of five sheets that were CNC cut out of 44W mild steel to form the body of each mannequin.  With this order we are producing two mannequins, one male (first time we've made one) and one female.  The female weighs in at 47.8lbs and the male comes in at 70.8lbs, they aren't lightweights!
We just recently got a set of laser crosshairs for our CNC table.  This allows us to easily square up material and to reduce waste, which will ultimately save our customers money and be more productive!  here it's cutting the vertical body section of a female mannequin.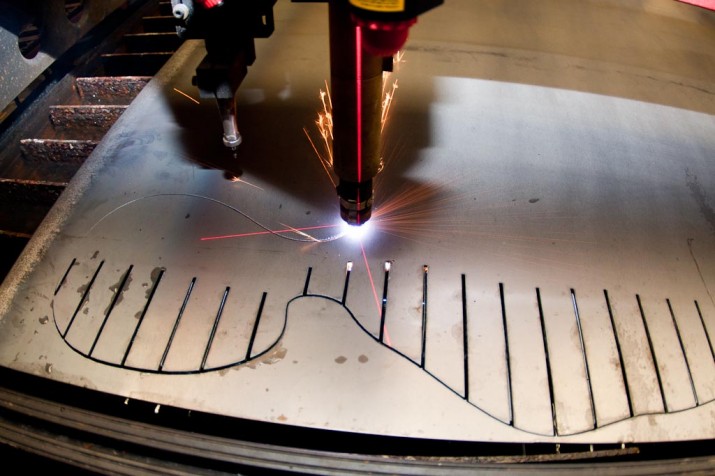 This job required five sheets of material to complete the two mannequins.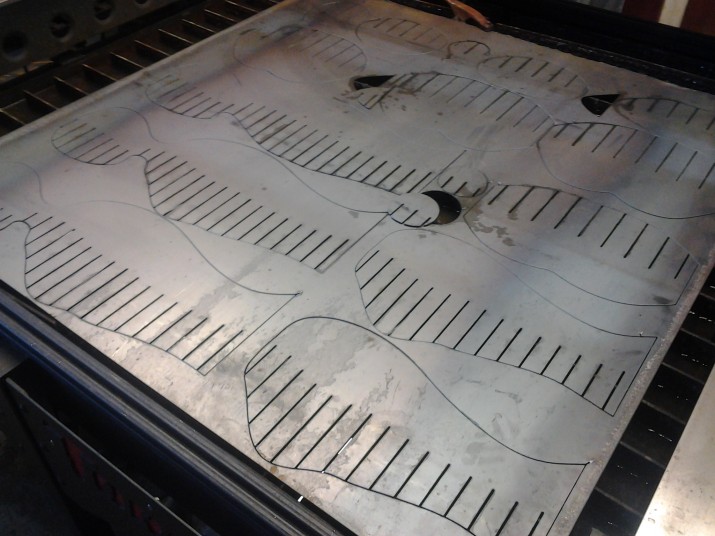 Once the pieces are cut up they are marked, removed from the table, dross is removed then they are ready for test fitting.  These are all the pieces required to make one male mannequin.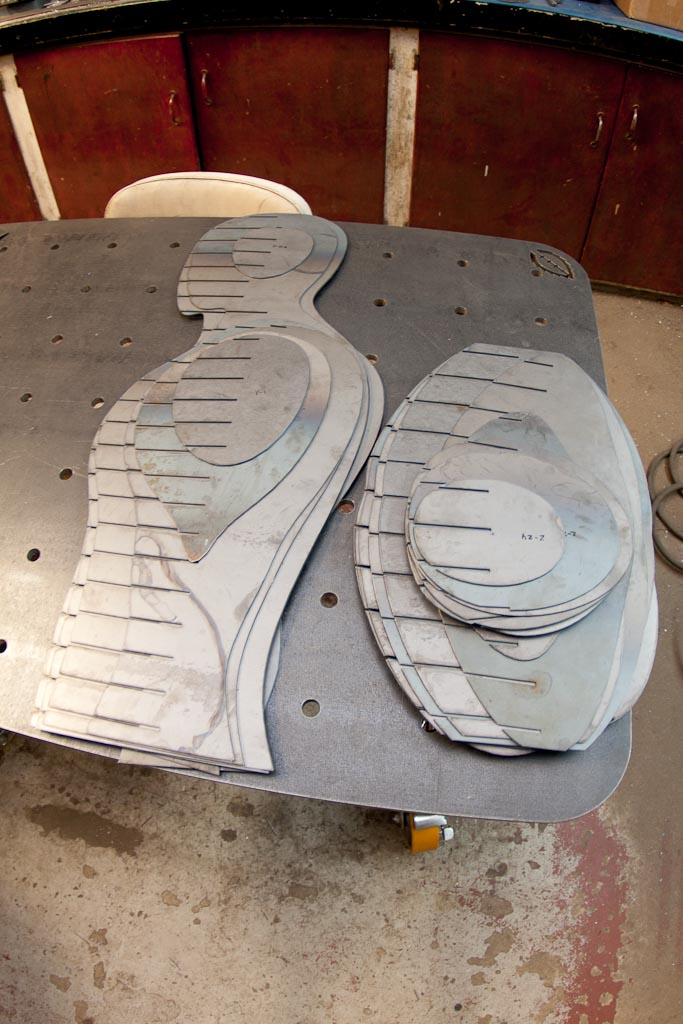 These mannequins could be used for modeling everything from scarves to jewelry to welding helmets or PPE gear.  Right now they are being test fitted to ensure that everything fits and there will be no issues when they are reassembled by our client in London.  Due to the high cost of shipping, these mannequins will be disassembled and flat-packed to be re-setup by the client just in time for a fashion exhibition in the following week.  Here are some finished photos.
Iron Man with his two Iron Maiden's?  You bet!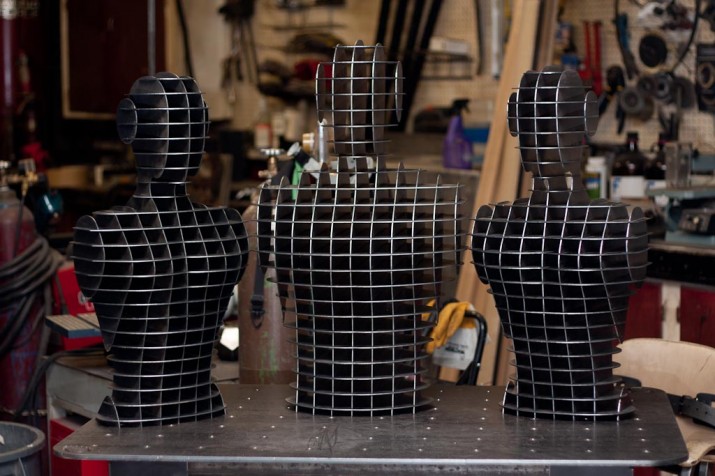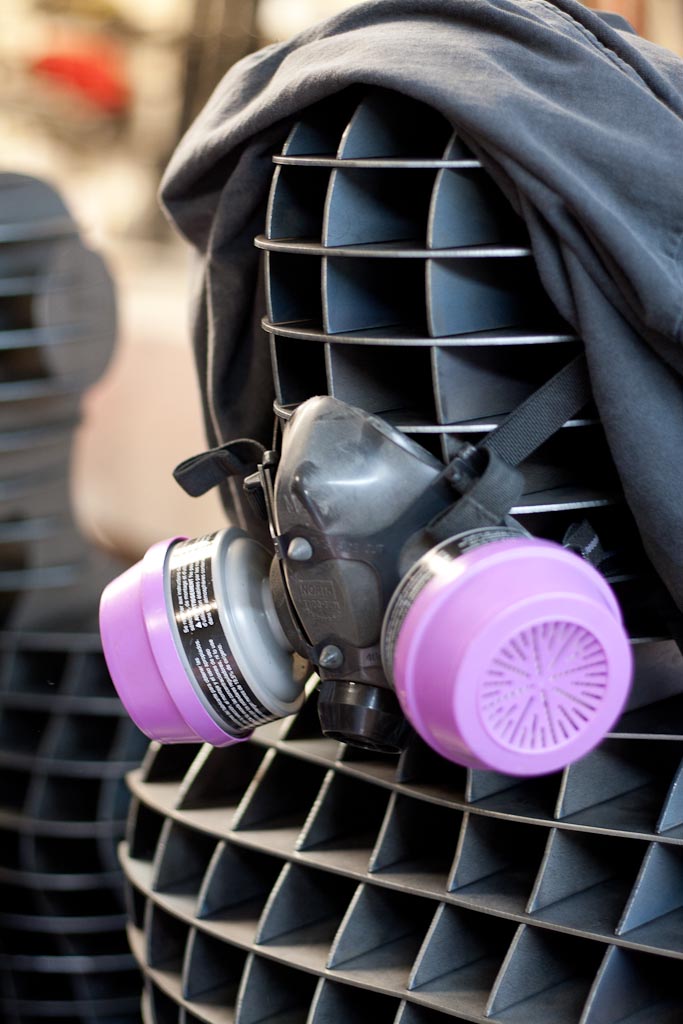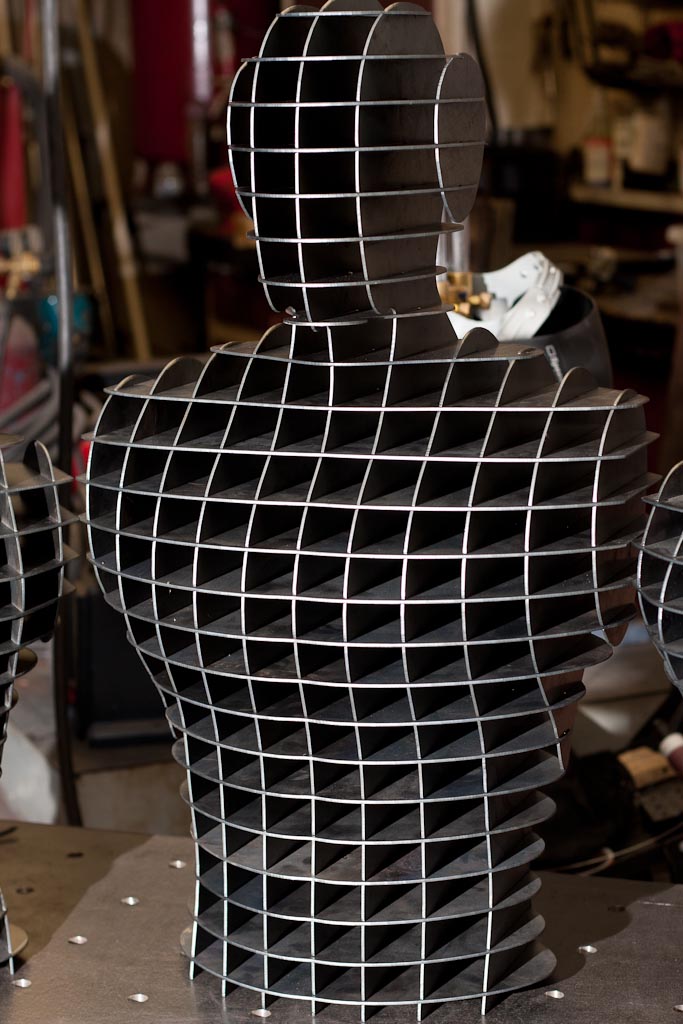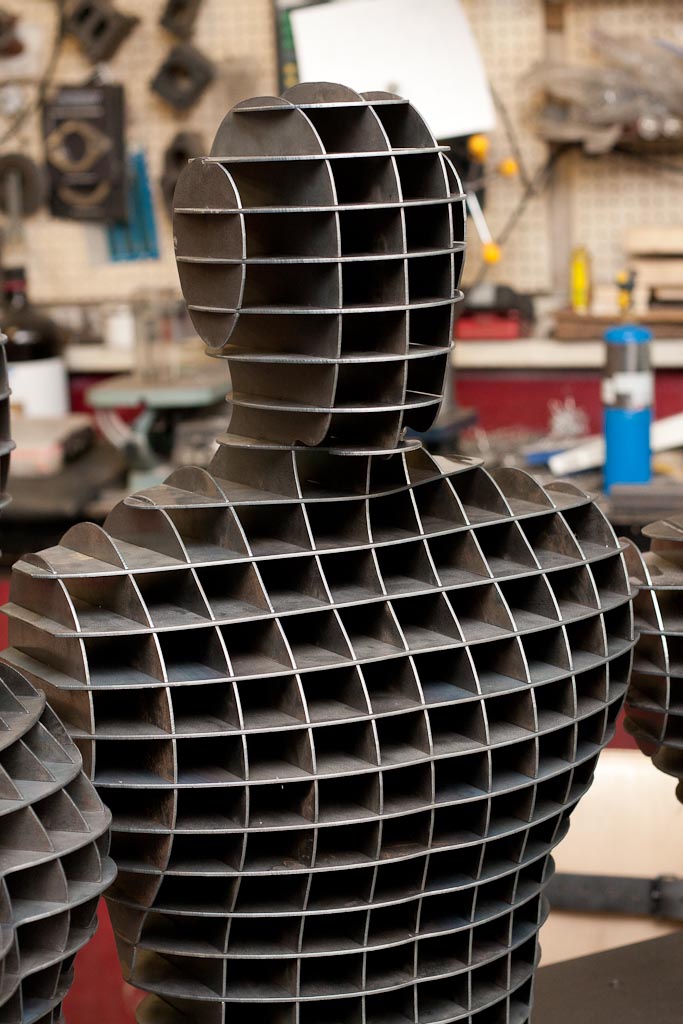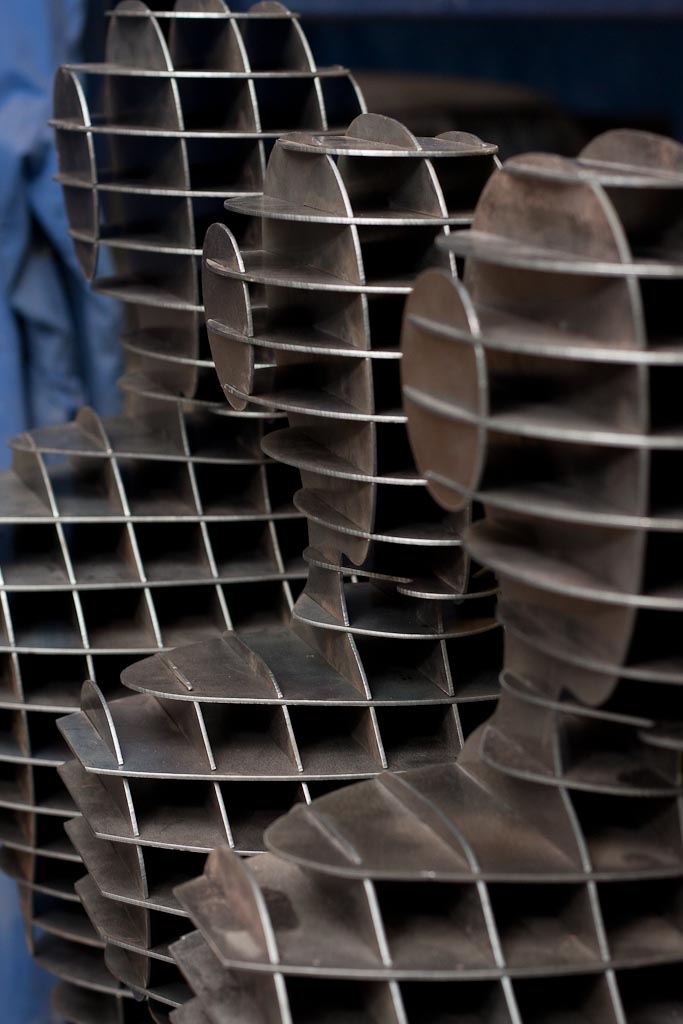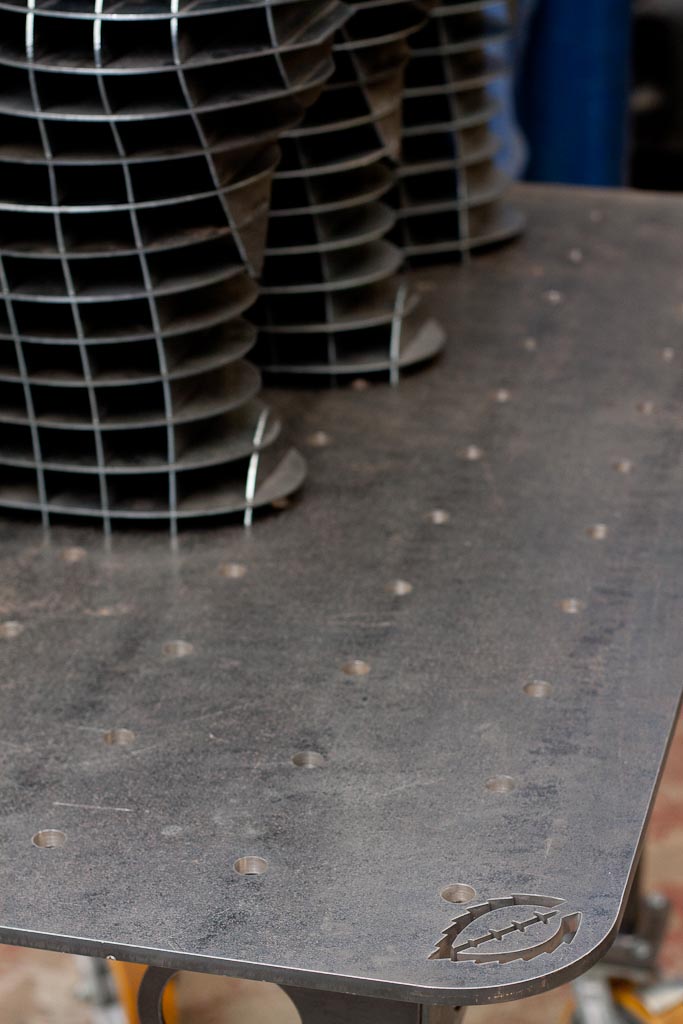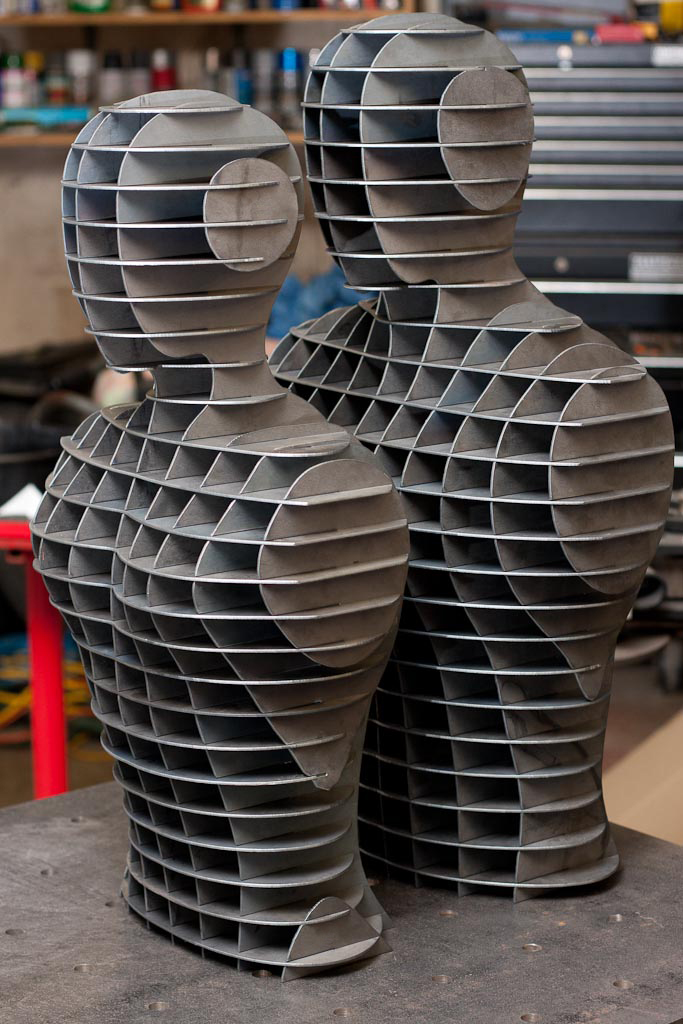 Making custom boxes isn't the most enjoyable task, however things go by quicker when you have custom built shop tools to create perforated folds.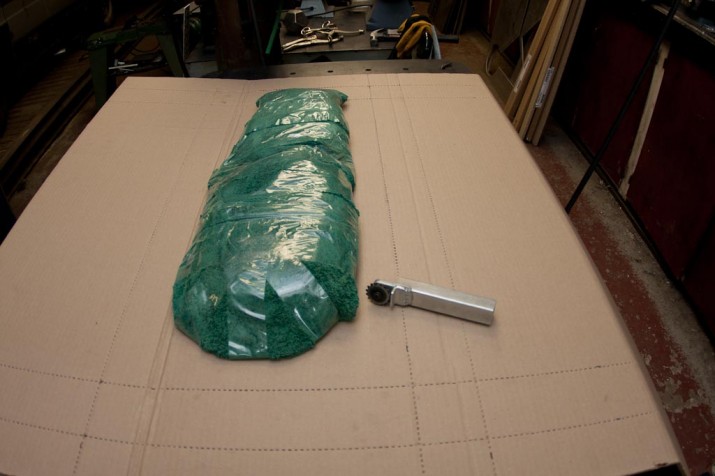 All packed and ready to go!  They are just waiting for the FedEx driver to arrive.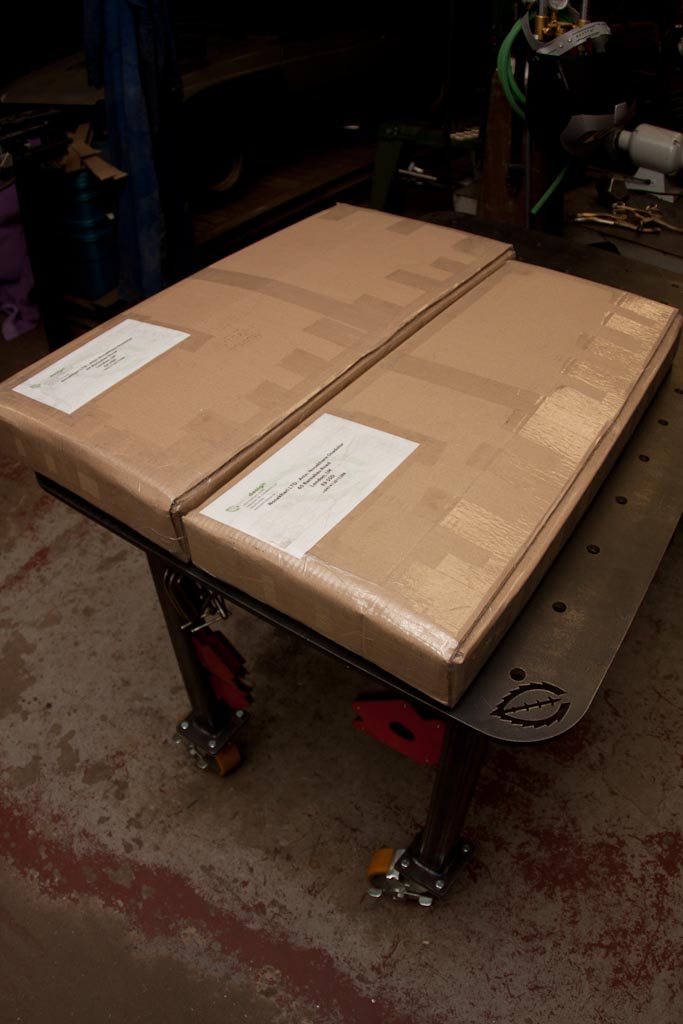 Click here to see our customer update!
We're always looking to acquire useful equipment to increase productivity and quality so we can provide our customers even greater value.  We've been busy as we picked up a pipe polisher and been busy CNC cutting.  The pipe polisher allows us to prep tubing before welding to allow for a beautiful seamless brushed finish, or it can be used post welding to remove any weld lines or seams.  Also the tubing polisher will also allow us to sand steel tubing prior to welding to remove any mill scale that would otherwise contaminate a TIG weld.  Mill scale can be removed in many other ways, but with a tubing polisher it's one of the fastest.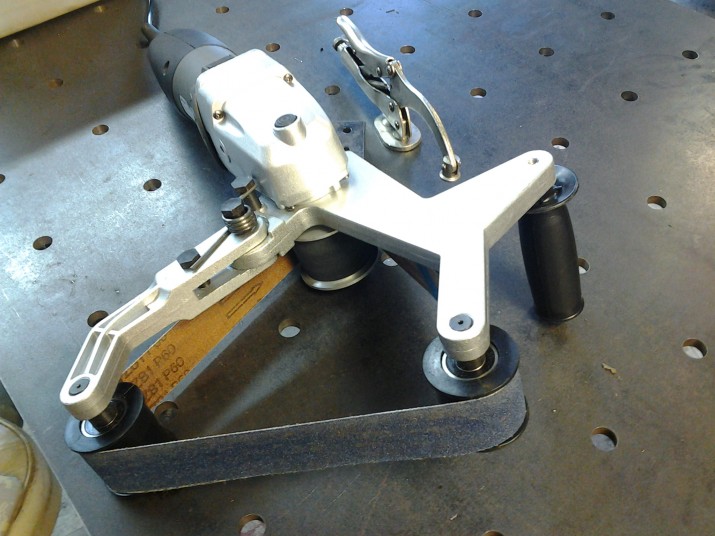 Now we just have to stock a variety of belts for the various types of work we'll be prepping, also keeping belts specific to mild steel, stainless steel and aluminum to avoid material contamination.  The last thing we'd want to do is embed steel into a stainless steel or aluminum part by cross-contaminating by using the same belt.  So once a belt is used for the first time we mark on the back what it is to be used for, likewise goes for polishing/buffing wheels.
This is one of the saddest parts I, Conrad, have produced.  This is a marker that I made for my grandmother who passed away early this year.  It has almost an hour and a half of engraving and CNC cutting, there were thousands of lines of G-code to have this part produced.  The sides are engraved with the words "Always Loved" prior to being TIG welded on.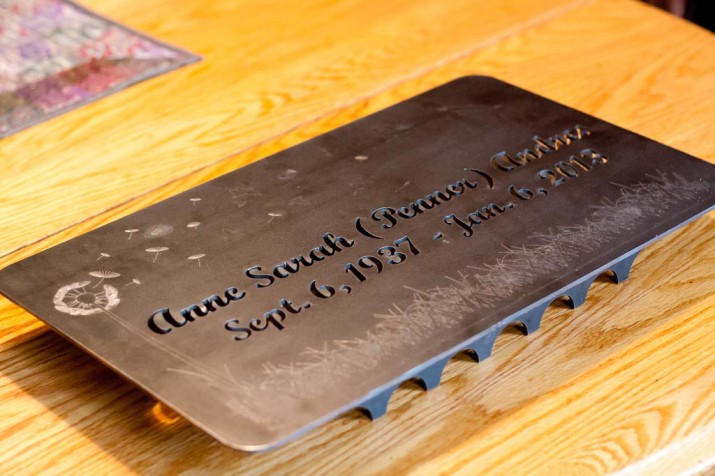 It is left as bare steel so it could form a nice brown patina over time to allow it to blend in with the beautiful surrounding forest.  Even after being in the rain for 24 hours the dandelion, grass and birds had a gold like patina, it was really quite nice.  Rest in peace Grandma Anne.
Here at Mint we've just been busy CNC Plasma Cutting, this time we've got a decorative part and some more mechanical parts.  The sign is made for 'The Other Guy' a local business in Saskatoon, Saskatchewan ran by Trevor G.  He does some very cool artwork pieces and was looking for an industrial looking sign to promote his business at art exhibitions and shows.  The sign is cut out of 10 gauge mild steel and measures in 12″ tall by 36″ long.  The sign uses custom font and really cool coffin shaped hanger mounts all designed by Trevor.
We have a bath formula that works really well at creating a really nice industrial/aged patina that goes really well with this sign.
Here we've cut some more 3/8″ steel plate for an engineer who always has projects on the go and continuously coming up with new designs.  This will be for a hydraulic lift setup he has designed and will be fabricating together. He's aware of how valuable his time is, and having these parts CNC cut means a lot less overall effort required and allows him to have a working design sooner than later, with a lot more precision than trying to make these pieces by hand.
Normally we don't do much repair work in the shop, mostly custom fabrication starting from raw materials.  However having the ability to fabricate parts from scratch means there are always going to be the odd repair or retrofit of existing parts that has to be done as well.  In this Porsche exhaust repair, it was repairing galled threads and some gummy welds from a previous "repair". Overall the repair was quite simple using a angle grinder (with cut off wheel and flapper disc), plasma cutter, bandsaw and a TIG welder.
We plasma cut off the fitting on the exhaust (to the left) and cut off the entire section a bit beyond the previous welds (to avoid contaminated material).  In this case we used a 3/4″ JIC fitting, one male for the exhaust and a female for the EGR.  This made things very easy.
All the customer has to do is apply some Loctite Nickel Anti-Seize and this problem won't happen again.
We been quite busy in the shop and we just haven't had time to take much photos.  The only time we pulled the SLR into the shop was to snap some photos of CNC cutting aluminum (some 0.080″) for a few customers.
These are destined to be bookends that will have some Subaru STI (EJ257) pistons welded onto them.  They were pulled from an engine that had ring land failure, one thing we noticed while cleaning up the pistons in the ultrasonic bath is that the piston that failed pitted quite easily and the other that didn't fail cleaned up just fine.  Maybe a casting defect or lesser grade aluminum?  Either way they'll be on display as a conversational book ends.  Here's the plate marker engraving and plasma cutter cutting out the pieces.
After some surface treatment work and a bit of welding here's the finished Subaru piston book ends.
Here is the case for a portable "boombox" that has some pretty cool features.  We didn't do the design work, just took the customers design, redrew it in SolidWorks to allow us to create an accurate flat pattern so it'd assemble how the customer envisioned it.  The design wasn't 100% set in stone so there were some added holes and some slight tweaks after the parts were cut.  Here is the rendering of the metalwork: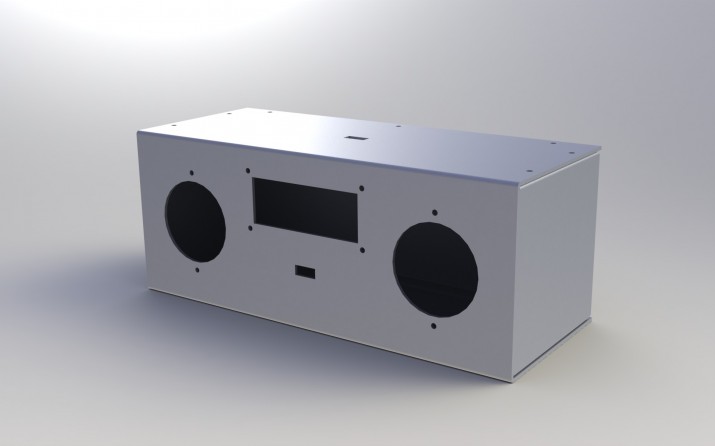 And here's the cutting process on our Torchmate CNC plasma table using the Hypertherm plasma cutter: